Holiday Offerings
Check out our seasonal holiday offerings here! Christmas flower arrangements, mixed evergreens and seasonal accents make wonderful gifts for yourself or someone else. Show someone you are thinking of them. Next day delivery available Calgary wide.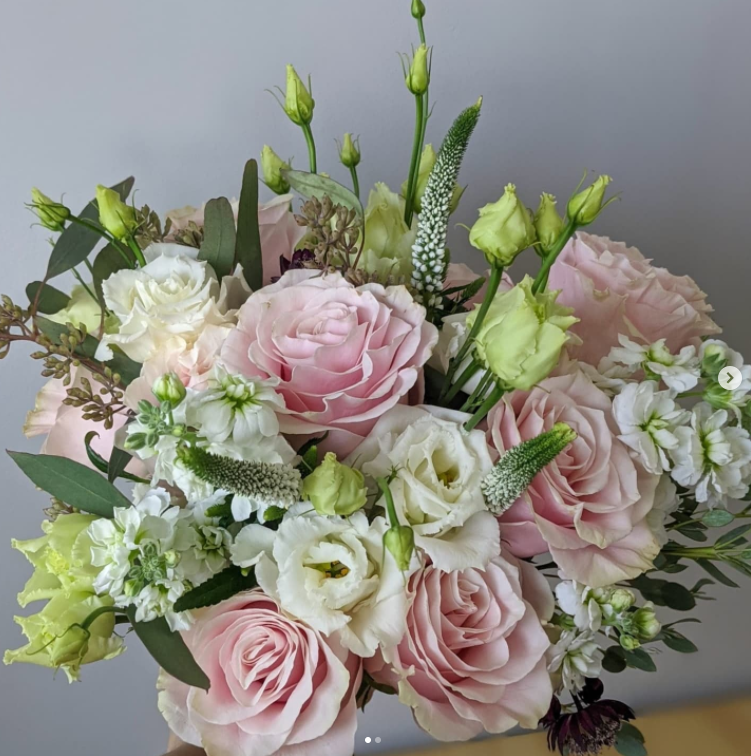 A la carte Event Florals
Event flowers that you can book directly online. Boutonniere, corsage, floral crown, bridal bouquets all available. Pick the style and we will design something beautiful for your special day, whether that's a wedding, grad or a special date. Check out our a la carte event florals!
A la carte Event Florals
How this all works!
Congratulations on your big day - we are so excited that you would like us to be a part of it. We love weddings (and events) and we look forward to making your day extra special with unique and stunning wedding flowers! We create custom bouquets and arrangements based on your preferences and personality. Whether your style is unique, modern, or traditional, we'd love to sit down with you. From consultation to delivery, we'll be there every step of the way! 
We know your time is valuable and you may not have done this before so here's how we get started.
Click on the contact us about your wedding button above and share as many details as possible. We will get back to you asap to set up a phone consultation. Whether you know exactly what flowers you want or you just know you want flowers, we will talk about your style, colour story and how you want your day to feel. We will discuss floral elements that will suit your venue and colour palette. Images, Pinterest boards or flowers you have in mind will be helpful so please share beforehand. 
After your phone consultation, we will create a proposal and concept for you to make sure we are on the same page as far as style and budget before signing a contract. Finally, we ask that you move forward with a contract and 25% non-refundable deposit within two weeks to secure the date of your event. Final changes can be made up to 30 days prior to your event along with final payment. Products will be ordered at this time once everything has been finalized. If booking an elopement, micro-wedding or event with only 2-3 weeks notice, full payment will be required at time of booking. 
Flowers create the ambience for your event. When designing there is a level of care and expertise that goes into handling each stem. Because of this level of service we limit the amount of events booked per weekend.

It is suggested you allow 10% of your total wedding budget for flowers, if you find you want lush designs, premium blooms and or elaborate installations 15-20% would be more accurate.
Each event is priced individually taking into account your flower selection, design elements, delivery and set-up. Our goal is always to create a look that suits your taste and maximizes budget. We believe transparency around pricing is crucial; there are a lot of details that can add up quickly so we provide a proposal based on your specific style and scope of event.

We can't wait to meet you!